We work with you in the design and implementation of a VoIP phone system.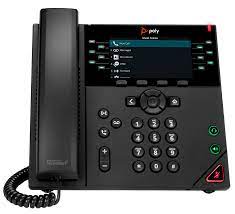 VoIP phone systems utilize your Internet connection to provide a robust, full featured phone system. The only equipment you are required to purchase is the phones, the rest of the system is hosted by the provided.
VoIP phone system support a remote worker, hybrid or traditional work environment.
Access secure voice, video and chat on any device, with desktop and mobile apps
Benefits of VoIP Solutions
Look more professional
Manage cash flow and expenses
Maximize flexibility
Expand your market
Improve Customer Relationships
Boost Productivity
VoIP Phones
Supplying industry leading:
HP (Poly / Polycom) VoIP Phones


Yealink Cordless Phones


Cisco ATA Analogue to VoIP routers
Evaluation
Small business phone systems were once fairly limited in the functions and capabilities that you could get. Small business owners expect little more from their phone systems than to allow for multiple inbound and outbound calls simultaneously.

In today's marketplace, those are pretty minimal expectations. If this is your current functionality, it's fair to question whether your small business phone system is the right solution for you. Is the platform still working well enough to get ahead of the competition and stay there?

In thinking about your current phone system, it's important to consider the advancements in phone system technology. How could these advancements improve your business? Even if you think your phone system is sufficient for now, scalability is important when planning for future growth.

Make sure to put together a wish list of all the features that you'd like your phone system to have. Taking the time to identify larger pain points will help you take your business to the next level. Small business phone systems have never had so many productivity-boosting features at such an affordable price point. The time to consider updating your small business phone system might be sooner than you previously thought.